ACTION PAINTING STREET BATTLE!
USHIO SHINOHARA VS. RYOGA KATSUMA
Curated by Ethan Cohen and Shinya Watanabe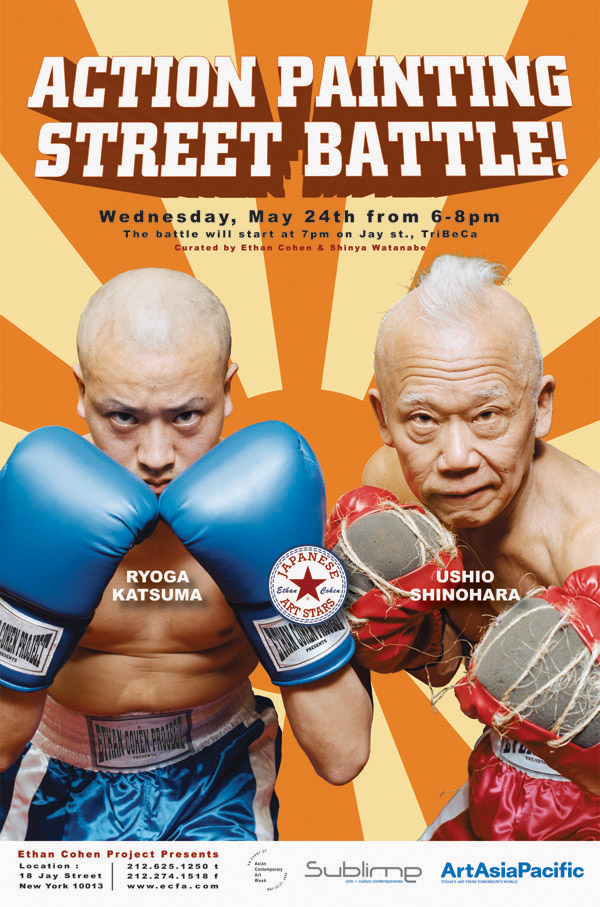 Opening Reception: Wednesday, May 24th 2006 6-8PM
Performance will be held on Wednesday, May 24th from 7-7:30PM Sharp
Get Battle Related C-Print Photos at Here!
Exhibition: Ushio Shinohara, Ryoga Katsuma and Minoru Hirata
Tuesday, May 24th - Saturday, June 24th
ACAW Screening Artist: Yang Fudong, Ryoga Katsuma
This exhibition will be held as a part of Asian Contemporary Art Week hosted by Asia Society in New York.
The emerging Japanese action painter Ryoga Katsuma challenges the grand-champion of Boxing Painting, Ushio Shinohara. At age 74, Mr. Shinohara is the legendary Boxing Painter and was a core member of Neo Dada (initially gNeo Dadaism Organizersh), one of the most radical avant-garde collectives in postwar Japan.
Shinoharafs motifs are everyday objects, such as junk, motorcycle, mass media-related objects and all symbols of modern society. In 1963, Shinohara created the series of gImitation Art,h in which he gimitatedh the Neo-Dada and Pop Art masterpieces, such as Jasper Johns' Three Flags and Robert Rauschenberg's Coca-Cola Plan.
Shinohara first performed his Boxing Painting in1959, and William Klein was among the first photographers to document Boxing Painting performances. Since 1969, Shinohara has been based in DUMBO in Brooklyn, New York.
In gAction Painting Street Battle!h the young challenger Katsuma freely draws and paints on canvas It is Katsumafs special talent to have both a childfs free spirit and an accomplished painterfs hand.
"Action Painting Battle!h will be held on Jay Street in TriBeCa, blocked for the occasion, and our guest judges, including Dr. Alexandra Munroe, Senior Curator from Guggenheim Museum, and Juan Puntes, the Founding Director of White Box, will judge the battle and name the champion of Action Painting!
During this performance and exhibition, the recent works by Shinohara and Katsuma will be exhibited.
The exhibition will also include a selection of the Tokyo-based photographer Minoru Hiratafs works that documented Ushio Shinoharafs early performances. With this segment of the exhibition, Ethan Cohen Fine Arts launches the gArt Archeology Project,h a long-term archival project which aims to preserve ephemeral art works documented by photography, and to foster the understanding of the diverse and rich history of Japanese avant-garde performances in the 1960s. The project was conceived and proposed by Dr. Reiko Tomii, an independent art historian who specializes in post-1945 Japanese art and a co-founder of PoNJA-GenKon, a scholarly listserv group.
The event is presented by Ethan Cohen Fine Arts, as a part of Asian Contemporary Art Week in May 22nd-26th.
This event is co-sponsored by Art Asia Pacific Magazine.
Also as a part of ACAW video screening, Ethan Cohen Fine Arts will show Yang Fu Dongfs Seven Intellectuals in Bamboo Forest Chapter 1 and Ryoga Katsumafs, Action Painting Movie No. 2.
Ethan Cohen Fine Arts: 18 Jay Street (Tribeca between Hudson and Greenwich) New York, NY 10013 Tel: 212-625-1250 Fax: 212 -274-1518
Gallery Hours: Tu-Sa 11 a.m.-6 p.m., info@ecfa.com/www.ecfa.com